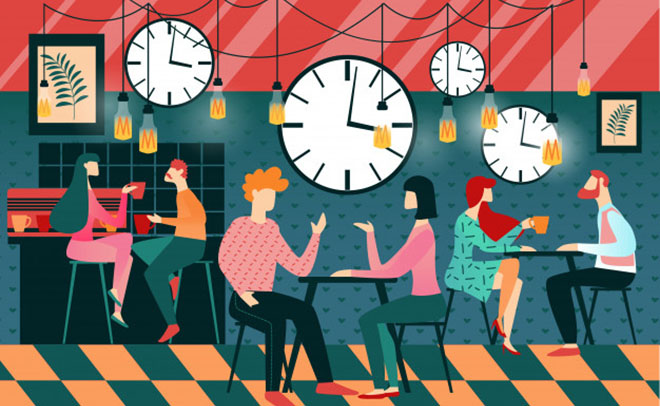 Speed dating is a great way to meet a variety of single people in the same evening. As speed dating events are localised (both in-person and online events), you'll meet people who you can easily go on proper dates with afterwards.
Here is our complete guide for speed dating, both in-person and online.
What is speed dating?
Speed ​​dating is an event where you have short dates with many different people. These people are usually from the same city, and grouped in a similar age to you.
Speed dating events usually last 1-2 hours, in which you'll have dates with between 10-20 people in that hour.
Traditionally the venue is a bar, however online speed dating is becoming popular, where you meet people through short video calls.
Short dates with up to 20 people within 2 hours
Grouped by age range
In-person and online events
How does in-person speed dating work?
You'll arrive at the dating venue and register with the person running the event, who gives you a scorecard where you note down the results of each date. The venue is usually in a bar or restaurant, where there will be lots of small tables laid out, with about 1m gap between them.
Depending on if you arrive early, you'll get to choose where you sit initially. When everyone is sat opposite someone else, the MC will instruct the event to start, and you'll have between 4-7 minutes to talk to the person opposite you.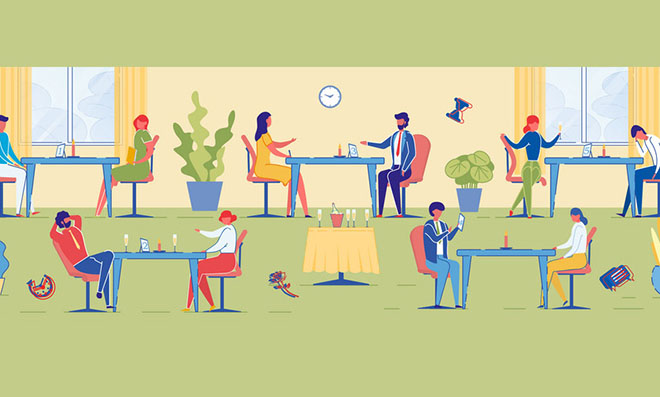 After each date, you'll "Yes" or "No" that person on your scorecard, depending on if you liked them. Typically guys then get up and move to the next table, while girls stay where they are. This continues until the event is over.
After the event, if you and the person you were dating "Yes" each other, or if one of you has a "Maybe" selected, your details will be exchanged via email, usually 24 hours after the event.
Event sizes vary, events I've been to in London typically have between 30-40 people in them, so you'll have plenty of people to date.
How does online speed dating work?
Online speed dating works in a similar way to in-person speed dating. The main difference is that the dates happen over video.
Online dating events can be much larger, as there are no limitations on space. You may get 100-200 people at a single event. At Copper Dating, we regularly get over 100+ people for our London online events.
When you join an event, you'll initially be placed in a "lobby" area, where you wait until you are placed on a date. After your video date, you'll get to "Yes" or "No" that person, and are returned to the "Lobby" area where you wait for your next date.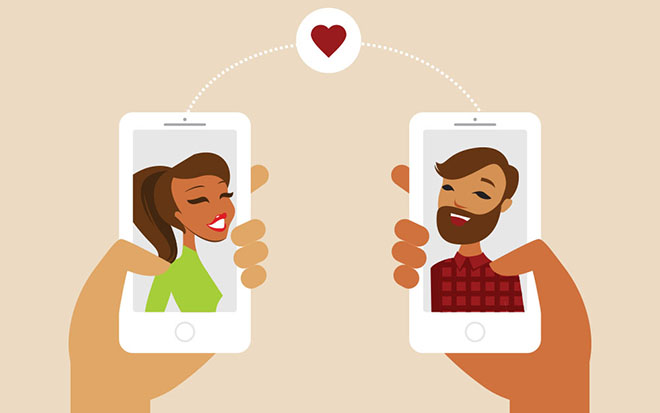 The software automatically matches you with each date, depending on your preferences and dating age range you selected.
Dates are typically shorter online, between 3-6 minutes, which means you'll meet more people at each event.
When the event has finished, you'll receive your matches, either straight after the event, or within 24 hours.
Why consider speed dating over traditional dating apps
Many people have told us that they are tired of traditional online dating apps such as Tinder, Match, Hinge and Bumble.
They waste time swiping and messaging, when it ultimately leads nowhere. This process can be both time consuming and emotionally draining.
With traditional apps, the swiping process can lead to heightened expectations which usually then fall short. Often the chat fizzles out or, for various reasons, there is no chemistry in real life.
With video dating, you'll have the opportunity to see if there is genuine rapport and chemistry before arranging a date in real-life. Research shows that this approach leads to a much higher success rate for in-person dates, as the initial video dates answer many initial questions and concerns in advance.
What to wear when speed dating
First impressions are essential, especially when you don't have much time to talk to your dates. What you wear is therefore very important, even for online dates - dress to impress.
It's better to be a little overdressed. For in-person events, a lot of single professionals come straight from work so are in smart suits and dresses.
Note: For online events, only really the top half of your body can be seen - so wear whatever you like on the bottom half!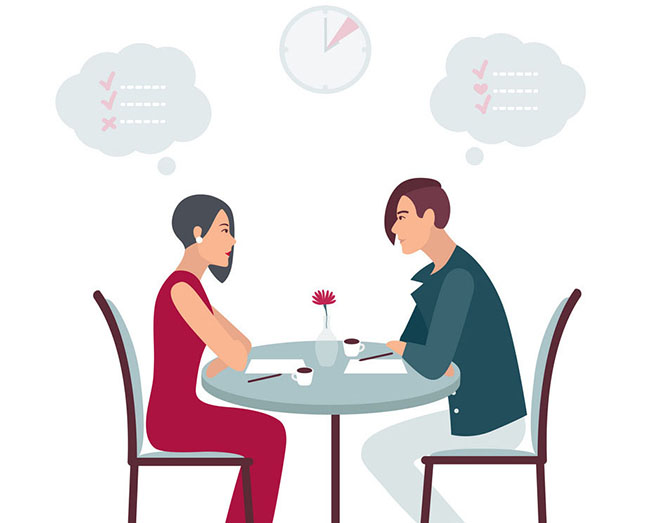 What women should wear
A nice dress and heels are a great option, but also make sure you are comfortable. Don't be afraid to wear a statement necklace or brightly coloured accessory to stand out and be memorable.
What men should wear
Choose something that reflects your personality. A few good outfit options include:
A stylish t-shirt with a sharp-looking jacket and jeans
Chinos and a polo shirt
Trousers and a shirt, with a lightweight trendy jumper
Shoes must be scuff-free, brogues or fashionable boots are ideal.
Take notes after each date
At my first event, I didn't take any notes about the dates and it was almost impossible to remember who was who afterwards. All the dates merge into each other as you're doing so many in such a short space of time.
What I suggest is writing a little note next to each date, particularly if you liked them. This can be done on the scorecard they give you for in-person events, or just a sheet of paper for online events.
Include a couple of key details about your date so that you can remember them. Just make sure the people you're dating don't see your notes!
Create a good first impression
We generally make a judgment of others in the first few seconds of meeting them. Make a great impression with positive, open body language. Smile and sit up straight.
Maintain good posture. Eye contact is important, but shouldn't be too intense. Confidence is attractive and even if you don't feel it, you can still fake it until you feel it.
How can you improve your speed dating skills?
The more events you go to, the more confident you'll feel. Try going to several online and in-person events to improve your speed dating skills - you'll get a better feel for the right questions to ask, body language to use and how to impress your dates.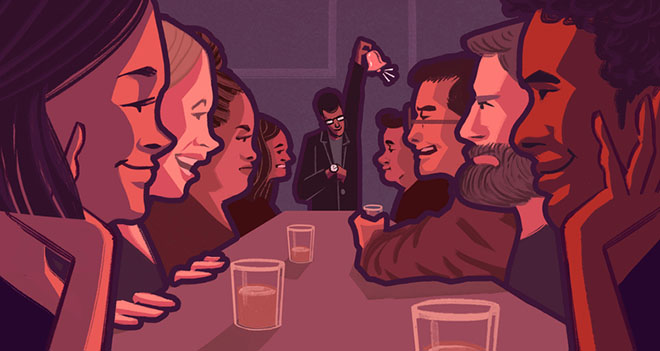 Keep things positive and smile
People enjoy good news and happy vibes. Explaining how terrible your dating experiences were in the past is not going to help you get matches.
It's natural to be a little nervous before a speed dating event, particularly if you have never been speed dating before and don't know what to expect.
Everyone is in the same boat, they all want to meet new people, so relax and smile. This may seem obvious, but smiling really does help improve your chances of a match. By smiling and laughing, you give off positive energy and attract others towards you. Dating nights are fun, so always go with an open mind and a big smile.
Nervous before an event
It's natural to be nervous before an event. I've been several times and each time felt extremely nervous arriving at the venue, or loading up the website for online speed dating.
But when the event starts, those nerves quickly disappear. You realise it's easy to talk for such a short amount of time - even if you don't really click or have any chemistry with the person opposite you.
Everyone I've speed dated has been friendly to me. The MC is also usually pretty funny, and helps to reduce nerves and ensure everyone has a good time.
Additional tips for video speed dating
Setup and technology
For a setup to make you look your best, follow these tips:
Keep the camera at eye level
Ensure the main light source is in front of you
Wear plain coloured clothes, as lines and patterns don't show well on video
Test your audio and video before you start dating
Body language and eye contact
Follow these body language and eye contact tips while on a video date:
Sit up straight and don't slouch
Use hand gestures when emphasising what you are saying
Look at the camera at points throughout your date, as this gives the impression of looking into their eyes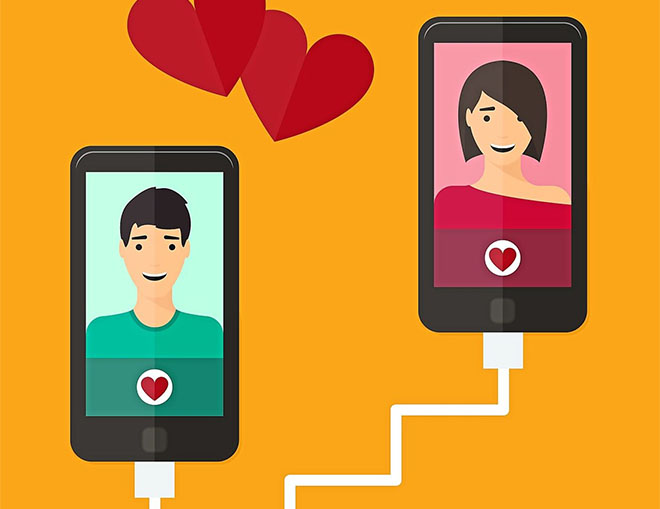 Speed dating questions - what should you ask?
Speed dating is exciting, but what do you ask your dates? With only a short period of time to ask questions, you need to make them count.
Don't rely on a rigid script of questions to ask your date, however having a few questions initially to break the ice (or if the conversation dries up) is a good idea, then the conversation can flow from there.
Typical date topics revolve around jobs and where you're living, so try and mix it up a little with more interesting and original questions. Don´t forget to actively listen to the other person, you want to listen at least as much as you talk!
Guide for questions and topics
The best topics to talk about are those which are leading - give your dates a chance to open up rather than give a short yes or no response.
Find out what interests you share and keep the conversation light hearted. You don't want to get too serious for an introduction date, so humour is a must.
Background speed dating questions
Where did you grow up?
How would your best friend describe you?
Are you a morning or evening person?
Who do you live with at the moment?
Have you got any cats or dogs?
Have you got any brothers or sisters?
Questions about your date's interests
What do you do when not at work?
What do you like doing on the weekend?
Do you keep busy or prefer relaxing with Netflix?
What are you passionate about?
Questions about travel
Where is the next place you plan to visit?
Where was the last place you visited?
Do you prefer sightseeing or beach holidays?
Questions about your date's aspirations
What do you look for in a relationship?
What did you want to be when you were younger?
If you could live anywhere in the world, where would it be?
Food and drink questions
What would your last meal be?
Do you like to cook? What's your signature dish?
What type of food do you prefer?
Favourite cocktail?
Random speed dating questions
What's an item you could never live without?
Have you got any unique party tricks?
What's the most adventurous thing you've ever done?
Questions about music, movies and TV
What kind of music are you into?
If you could see anyone perform live who would it be?
What is your favorite film genre?
Who is your celebrity crush?
Do people tell you that you look like someone famous?
What TV series are you watching at the moment?
What's your favourite podcast / book?
Questions for student events
Did you have any nicknames at school?
If you had 3 months to live, what would you do?
Which student halls do you live in?
Did you play any sports at school?
Questions and topics to avoid
These are general topics to avoid talking about:
Your or their ex - there can be many different reasons they broke up with their ex, some of which may be difficult to talk about, especially in 5 minutes!
Marriage and kids - it's important to know you are on the same page, but discussing it on a date that is so short is a mistake. Keep to lighter topics.
Religion and politics - these topics are too intense for a first date, save it for the next date when you have more time.
Work - you can talk about the basics but don't waste your precious dating time talking non-stop about work.
Don't be afraid to attend an event on your own
Lots of people go to speed dating events on their own, and it's nothing to worry about. Going alone actually has the benefit of not sticking to your friends and chatting with only them during the breaks - you'll be forced out of your comfort zone.
If you do go speed dating with friends, consider not sitting next to them, otherwise you'll be able to hear snippets of their conversation which can completely derail your train of thought (although it can be very funny).
If you are attending an event on your own, arrive 15 minutes early to meet other people at the bar before the event. There are usually a handful of people who do the same and are very open to chatting before the event.
Try our online speed dating events!
Date different people for 3 minutes each.
Save time and build real connections.
Learn more